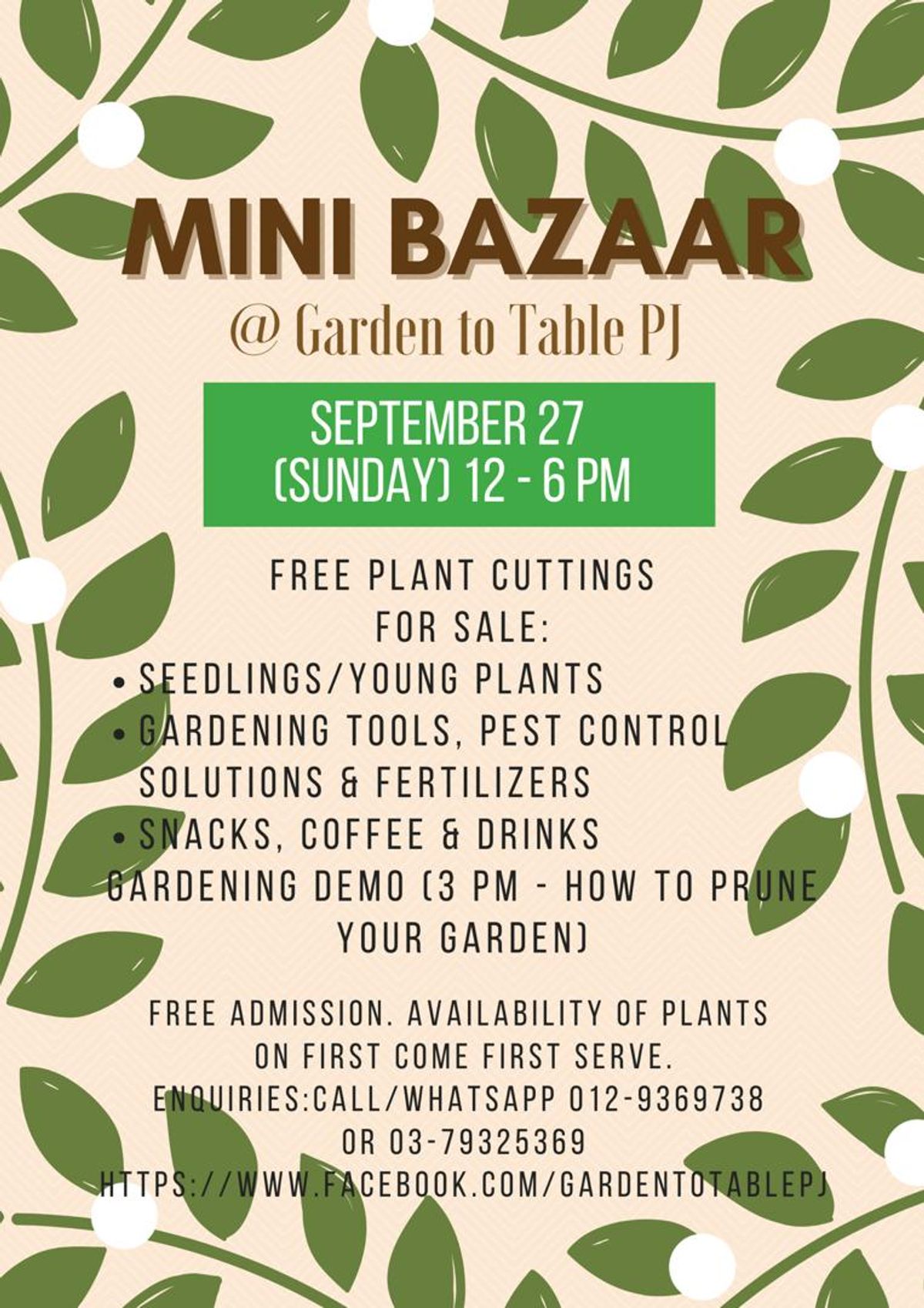 Our mini bazaar this Sunday (September 27) is an opportunity for us to meet like-minded gardening enthusiasts and foodies, and opening up our little gardening space. We will have organically certified or chemical free fresh produce direct from our partnering farms, gardening tools, fertilizers and pest control solutions, snacks, pastries and breads homemade from our kitchen, and best of all, you can have the option to dine in (free seating) with coffee or drinks. Happening this Sunday September 27, 12 to 6 pm @ Garden to Table PJ (Waze or Google Map).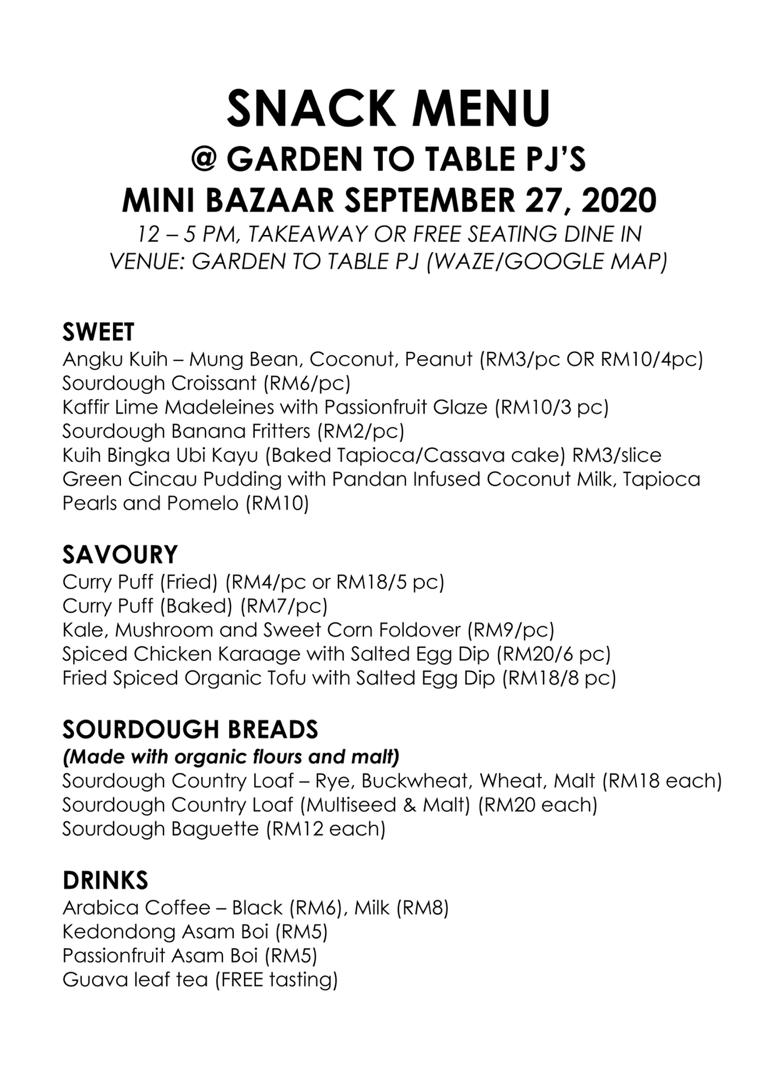 Please whatsapp 012-9369738 if you have any further enquiries. Kindly note that we will observe all SOPs and COVID safeguarding measures, including temperature checks, social distancing, registration of name and phone numbers, and sanitisation. All attendees are required to wear a face mask upon entering.

Nearest LRT station (10 - 15 minutes walk): Taman Paramount.

We are located not far from Jaya 33 and the Section 14 mosque. If you pass by Jaya 33 and the mosque is on your left, turn left at the traffic light at the mosque (the mosque is still on your left), go straight on Jalan Dato Abdul Aziz and you will see Toyota Service Centre on your right, followed by Starbucks @ Three Two Square, keep going straight for about 200 metres and you will pass by National Kidney Foundation of Malaysia on your left (a white bungalow), continue straight for another 200 metres and you will see a kindergarten, Tadika Chim, on your right, continue straight another 50 metres or so, turn right (onto Jalan 14/37) and take the second turning on the left onto Lorong 14/37 b. We are the 4th house on the right.

Due to limitations of parking space, we encourage you to take GrabCar or LRT (nearest station is Taman Paramount - a nice 10-15 mins walk) to reach us or you can park your car on the roadside of the main road Jalan 14/37, or Lorong 14/37b or 14/37a (as marked in green on the map below).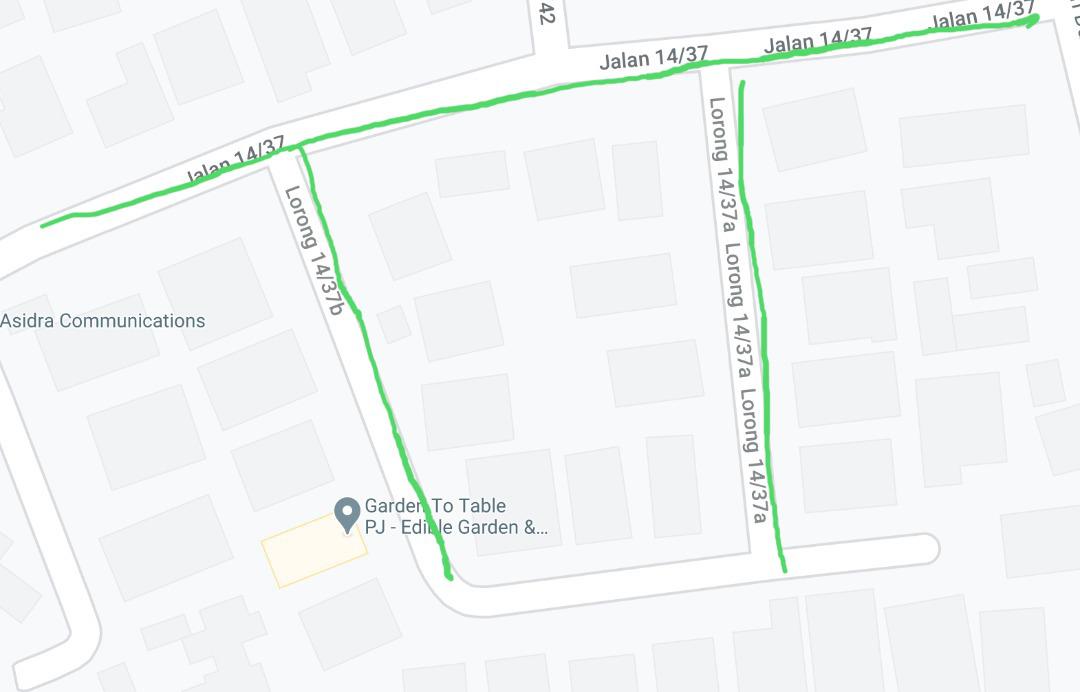 SEE YOU ALL SOON!!!!
@ Garden to Table Edible Garden and Artisan Flavours