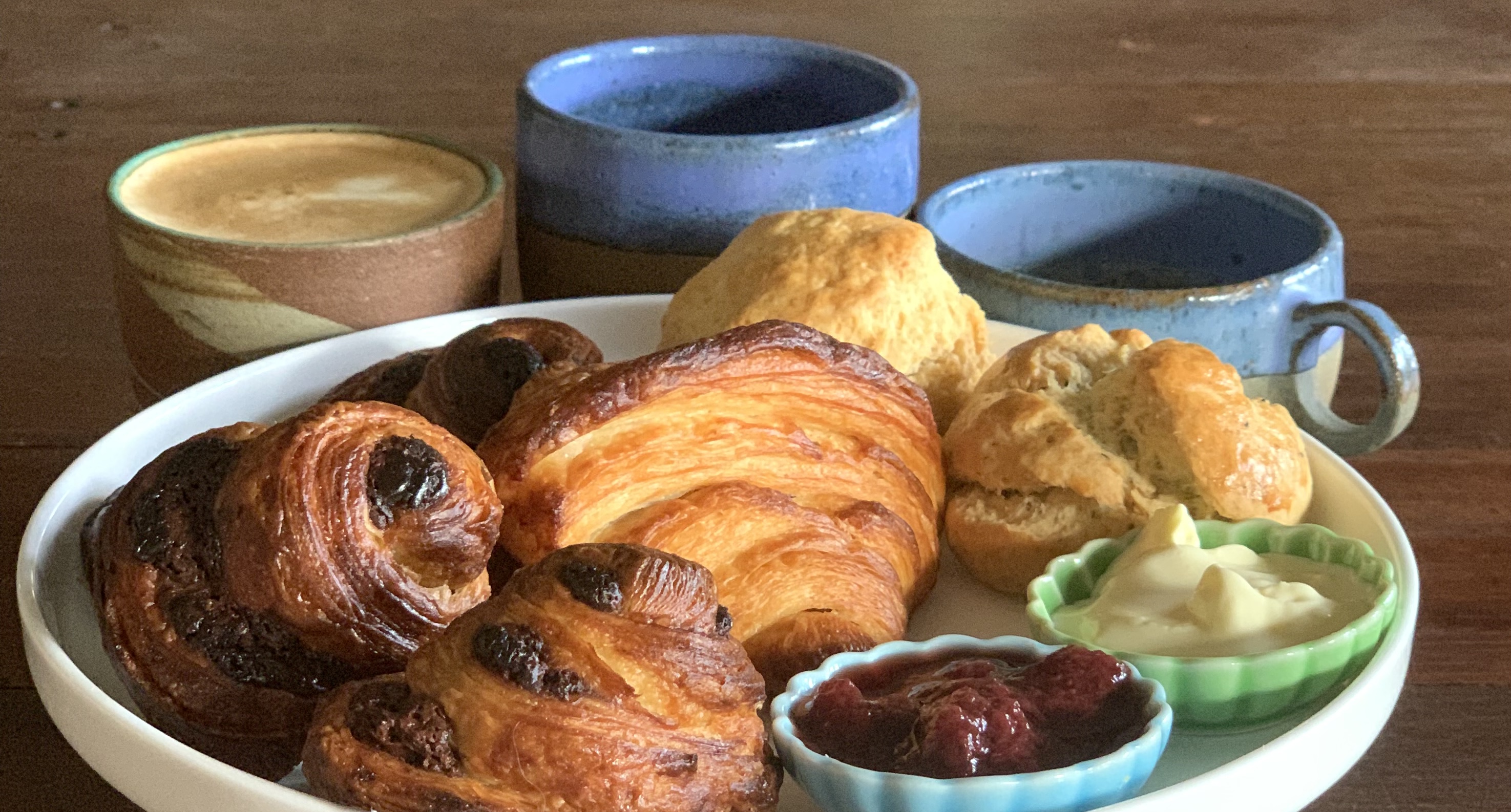 Series of events and dining experiences.

DINING EXPERIENCE
Garden to Table is now open for dine-ins (26 Nov to 5 Dec). Very Limited Tables! Only 3 tables available at any one time/session, up to 8 persons.

Thursday and Friday - 3 dining sessions (2 hours each) - 11am, 1pm and 3pm.
Saturday - 1 dining session - 2.30pm to 5pm (2.5 hours)
TREATS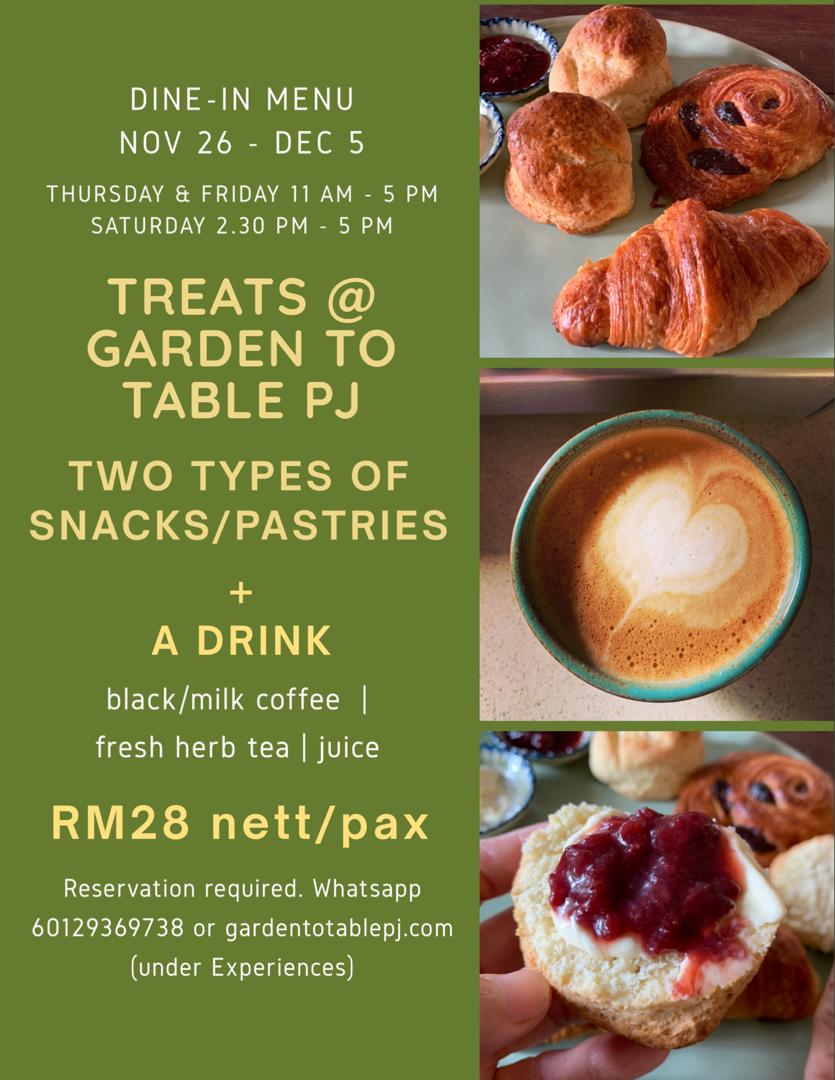 ---

CHEF'S CHOICE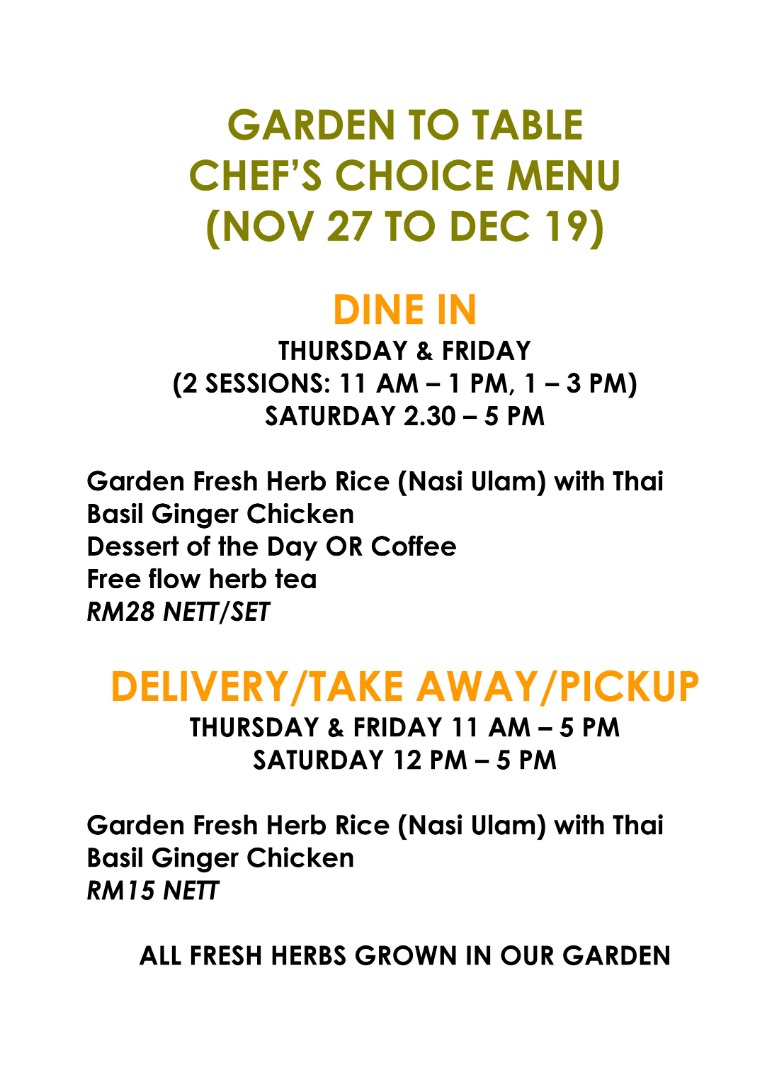 FOR DINING IN, CHOOSE FROM TWO MENUS:

TREATS
Thursday & Friday ~ 3 Sessions: 11 AM – 1 PM, 1 – 3 PM, 3 – 5 PM
Saturday ~ 2.30 PM – 5 PM

Or

CHEF'S CHOICE
Thursday & Friday ~ 2 Sessions: 11 AM – 1 PM, 1 – 3 PM
Saturday ~ 2.30 PM – 5 PM

SNACK OUT
Thursday to Sunday ~ 11 AM - 5 PM
Snack Out @ RM18 for Pastry of the day and 1 drink (Coffee or Fresh Herb Tea). Free sitting/standing up to 6 persons.

Please Whatsapp us @0129369738 to reserve a session.
Pre-payment is required to reserve the table. You will be allocated a table number upon confirmation of payment.

Cancellations are only allowed up to 48 hours before reservation time. For cancellations, your pre-payment will be converted to credits which you can use for future dining or any purchases in our e-commerce website - gardentotablepj.com

Note: Any additional purchases while dining can be paid at Garden to Table PJ via Maybank QR Pay, Boost, Touch n Go or instant bank transfer to Public Bank.
Photos are for illustration purposes only and may vary accordingly.

GARDENING THERAPY
Coming Soon.

BAKING THERAPY
Coming Soon.
---
Sorry, there is no product in this collection